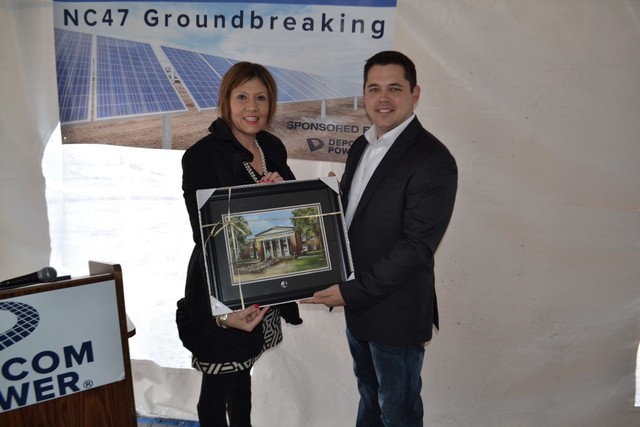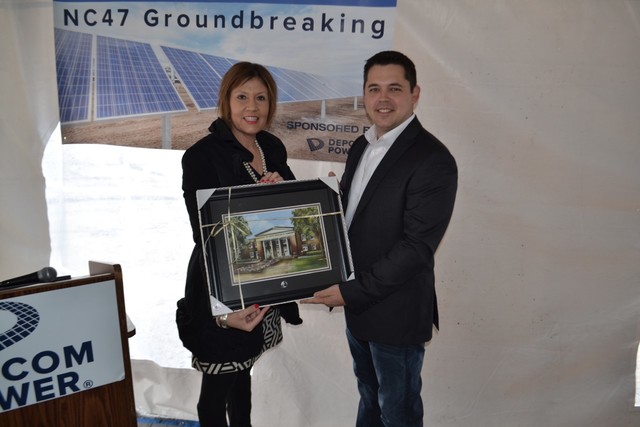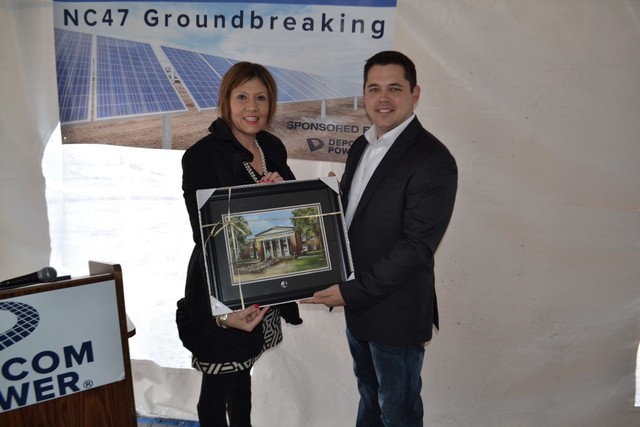 PEMBROKE, N.C. – The University of North Carolina at Pembroke and the broader community received an outpouring of support from individuals and businesses near and far in the wake of Hurricane Matthew.
None was bigger than the generous gift UNC Pembroke received from an Arizona-based solar energy company. DEPCOM Power, Inc. recently donated $20,000 to UNCP's Hurricane Matthew Disaster Relief Funds. The money will be used to support employees and students affected by the storm.
Officials with DEPCOM were acknowledged for the company's generosity during a groundbreaking of its newest solar farm in Maxton in December. The site is spread across 270 acres on McGirt Road near Campbell Soup.
"This groundbreaking event is about recognizing the development efforts of making this project a reality," said Johnnie Taul, Senior Vice President of Project Management and Engineering with DEPCOM.
"It is not only our commitment to delivering a safe, quality power plant on time and under budget, but it is also about our commitment to the community," Taul said. "We will invest our time and our resources in serving the needs of the local community and we will be a good neighbor."
Kellie Blue, chairwoman of the university's Board of Trustees, attended the event along with UNCP Advancement team members, Brittany Sandefur, Director of Development, and Caprice Lengle, Corporate and Foundation Relations Manager.
Robeson County is home to the kindest, most hospitable community members and plenty of sunshine, Blue said during her remarks.
"So this is a natural fit for companies like DEPCOM," Blue said. "At their core, DEPCOM strives to be a part of their community. Their solar facilities, like we are breaking ground on here today, provide energy for countless Americans and their generosity changes lives right here at home."
Blue described DEPCOM's gift as a "historic investment in our community."
"These are the type of long-term partnerships that our county and our university constantly seek and we are proud to have found that type of partner in DEPCOM," she said.
Blue, who also serves as the county's finance director, thanked the company for choosing Robeson County to build its newest solar farm. The project is expected to be complete in April.
DEPCOM also gave $14,000 to the county's Hurricane Matthew relief fund.
Founded in 2013, DEPCOM Power, Inc., is a partner in utility scale solar projects and supports the development, engineering, construction, and operations of solar farms across the country. The company has offices in Scottsdale, Ariz., Bridgewater, N.J., and San Ramon, Calif.
UNC Pembroke is a constituent institution of the University of North Carolina system. For more information, contact Jodi Phelps, executive director of University Communications and Marketing, via email (jodi.phelps@uncp.edu) or by phone (910.521.6863). Connect with UNC Pembroke on social media or online at uncp.edu to learn how the university is changing lives through education.
##
This story originally appeared on January 21,2017 in The Robesonian.