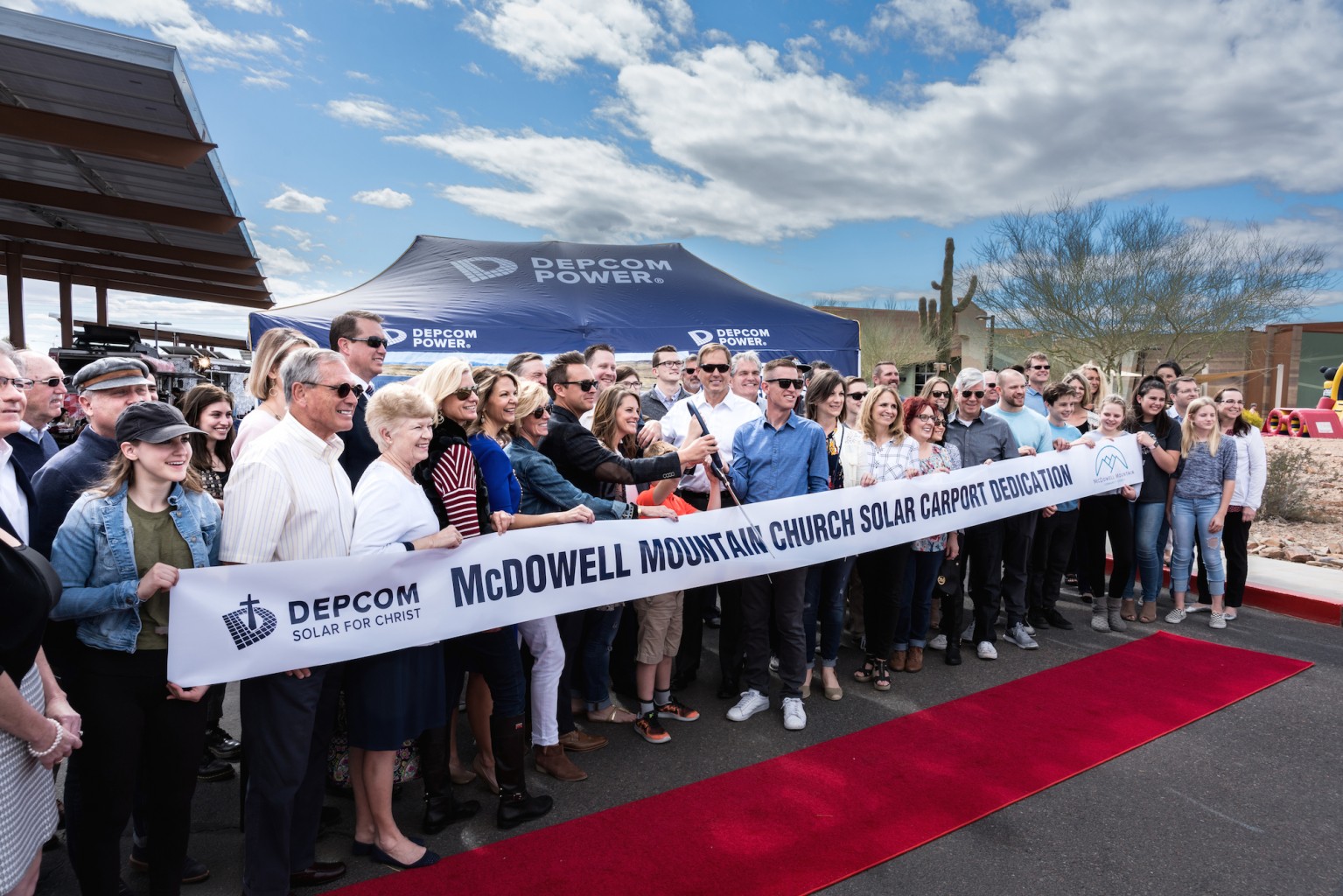 Scottsdale, AZ – March 5, 2018 –
On Sunday, Arizona state leaders gathered to support the dedication of the new solar carports at McDowell Mountain Community Church in Scottsdale, AZ.
Provided by DEPCOM Solar for Christ, LLC, the new solar carports will help the church generate approximately 300,000 kilowatt hours of energy, saving the church more than $1 million dollars in utility costs over the next several years.
The ribbon cutting celebrated the installation completion and energization of the project and was attended by Dr. Kelli Ward, State Treasurer Jeff DeWit, Congressman Paul Gosar and Congressman David Schweikert.
Established in 2017, DEPCOM Solar for Christ, LLC, was founded by DEPCOM Power, a Scottsdale based engineering and construction firm for the utility solar industry.
The idea for the program came from DEPCOM's team in the solar field, noticing that any slightly bruised, unused solar project modules were needless waste and could easily be repurposed.
"DEPCOM's engineers developed a testing and repair process that today guarantees the operational, safety and performance levels of the panels, ensuring they are ready for donation," said John Schroeder, President of DEPCOM Solar for Christ.
With McDowell Mountain Community Church meeting the energy requirements for the program, DEPCOM Solar for Christ began the project in November 2017, donating and installing more than 500 solar panels.
Congressman Paul Gosar was among the keynote speakers officiating the Sunday ceremony remarking, "This is what we ought to be doing here in the sunshine state of Arizona; taking advantage of something so easy and so plentiful here in Arizona. This project is an example of why we need to continue to reduce government bureaucracy and empower people to be part of the solution."
Supporters of clean solar energy for Arizona, Dr. Ward and Congressman Schweikert, also called the project a "disruptor" providing inspiration to other Arizona businesses and communities.
Pastor Matt Anderson cut the dedication ribbon on behalf of McDowell Mountain Community Church, commenting, "We are so grateful to the DEPCOM team for this solar concept, helping to save our church money so it can be reinvested into good things, using what God has given us and passing those blessings on to others.
###
Media Contact:
Danielle Luciano- DEPCOM Power
dluciano@depcom.jz2.barn3s.com
(858) 705- 8845