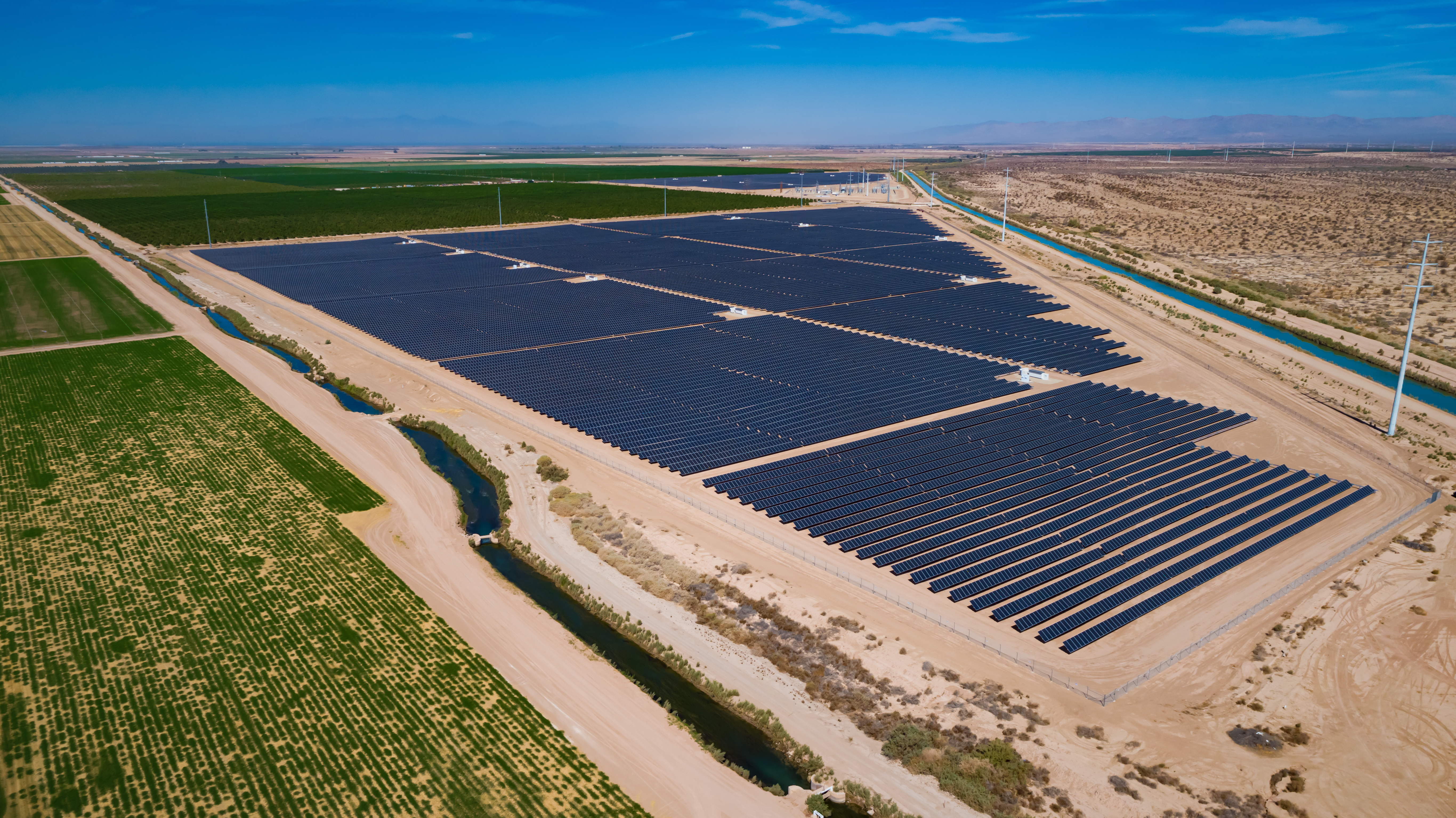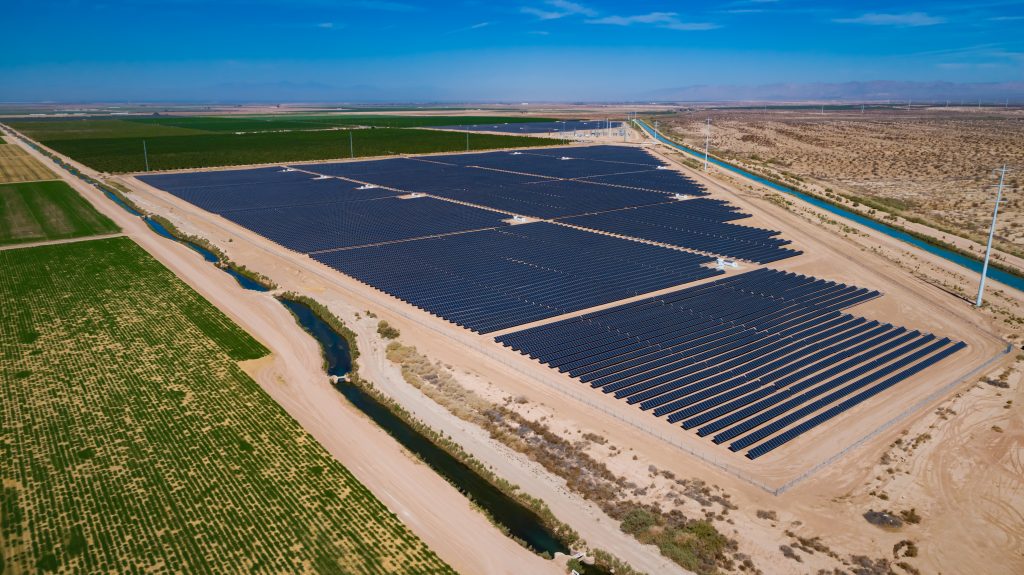 Scottsdale, AZ –
On Tuesday, September 26, 2019, DEPCOM Power celebrated the commissioning of the 30 MWac Citizens Imperial Solar project in Calipatria, CA, considered one of the nation's largest community solar projects.
Created under Citizen Energy Corp. and the Imperial Irrigation District's (IID) program, operational profits from the plant go directly to qualified low income families in the community as reduced cost of electricity on their monthly bills.
DEPCOM was selected by Citizens Energy Corp. to provide the engineering, procurement and construction services and continued operations and maintenance of the plant.
In keeping with DEPCOM's community pledge, DEPCOM hired 90% local craft labor to build the project, generating nearly 300 jobs, of which 20% were U.S. veterans.
A proud partner in the community, DEPCOM's philanthropic organization, DEPCOM G.I.V.E.S,  donated over $125,000 to local charities, supporting the impoverished, veterans, education and community energy initiatives. Since its founding in 2015, DEPCOM G.I.V.E.S has donated more than $4.2 Million to the project communities where the company builds for regional customers.
"The shared company ethos between Citizens Energy and DEPCOM Power of empowering local communities, helping those less fortunate and building clean, low-cost solar power for our great nation is a unique and valued partnership, " said Johnnie Taul, President- DEPCOM Power.
Read the official release here: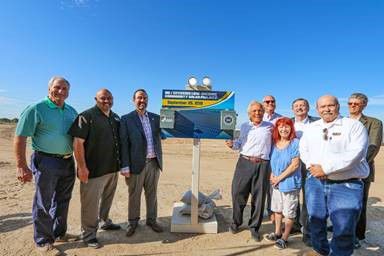 IID & Citizens commission community solar project dedicated to low-income customers
CALIPATRIA, Calif. – With the symbolic flip of a switch, clean, green electric power began flowing from a first-of-its-kind community solar project that will provide renewable energy to, and lower the electric utility bills for, all of Imperial Irrigation District's qualified, low-income customers in the Imperial and Coachella valleys.
The new IID/Citizens low-income community solar project will serve upwards of 12,000 electric customers in this economically stressed desert area of California who will see their monthly bills reduced under IID's new Residential Energy Assistance Program (REAP) and the district's new eGreen Program.
It is considered to be one of the largest low-income community solar projects in the nation, and unique among community solar energy projects in its structure and implementation.
The IID/Citizen's solar project will generate 30 megawatts of power for the IID grid under a 23-year purchase power agreement.
IID will directly pass on these savings to all of its qualified low-income electric customers in the form of an additional monthly discount on their electric bills.
"Today we celebrate the joining of forces between IID and Citizens to help provide clean, locally generated, renewable energy to thousands of people in the Imperial and Coachella valleys, all of whom will also receive additional monthly savings on their energy bills," said Erik Ortega, president of the IID Board of Directors.
"Now, IID's low-income customers can say they too form a part of California's green energy revolution."
Ortega was joined by other speakers, including Joseph P. Kennedy, II, former congressman and Citizens chairman and founder, Drew Bohan, executive director of the California Energy Commission, state senator Jeff Stone and Ryan Kelley, chairman of the Imperial County Board of Supervisors.
"Citizens Energy is proud and excited to continue to bring the benefits of the green revolution to low-income households in the IID service territory," said Kennedy. "This project is a win-win-win: It's good for the planet, good for low-income families, and fulfills the mission of IID and Citizens Energy to serve those in need."
As part of Citizen's $100 million investment in the Sunrise Powerlink, it committed to use its profits from that investment to benefit low-income customers in IID's service area. This project is a direct result of that commitment. Under the partnership with IID, Citizens is able to reach thousands more customers than with their original rooftop solar assistance program with IID.
The IID/Citizens community solar project, which features approximately 107,000 solar panel modules, is located on approximately 200 acres of IID-owned land near the district's Midway Substation outside of Calipatria, California where it is connected to IID's electric grid.
IID will have an option to purchase, own and operate the solar project at the end of the agreement.
The cost of the energy from the IID/Citizens solar project is the lowest the district has ever been able to procure for solar energy; (net first year costs to IID are expected to be approximately $19.83 per megawatt hour). IID's total cost of purchased power over the life of the agreement is estimated at $36 million.
The cost of constructing the facility by Citizens is estimated at $46 million.
With the addition of IID's eGreen Program, low-income customers enrolled in the district's REAP program can expect to see an additional discount, which is estimated at 5%, applied to their October billing statement. All IID REAP customers will be automatically enrolled in the eGreen Program.
# # #
About IID
A strong advocate for clean energy policies and deployment of renewable resources in California, IID is the third largest public power provider in the state. The district manages more than 1,000 megawatts of energy derived from a diverse portfolio of resources, including solar, geothermal, biomass and small hydro.
About Citizens
Citizens Energy Corp. is a Boston-based nonprofit founded by former U.S. Rep. Joseph P. Kennedy II. Under his leadership as chairman and president, Citizens Energy has compiled a 40-year history of channeling revenues from successful energy ventures in oil, natural gas, electricity trading, energy efficiency and conservation, transmission, wind power and solar arrays to programs that help the poor.
For media inquiries, please contact:
Imperial Irrigation District:
Robert Schettler: rdschettler@iid.com / 760-427-5264
Citizens Energy Corporation:
Brian O'Connor: briano@citizensenergy.com /617-338-6300
Photo credit: Imperial Irrigation District