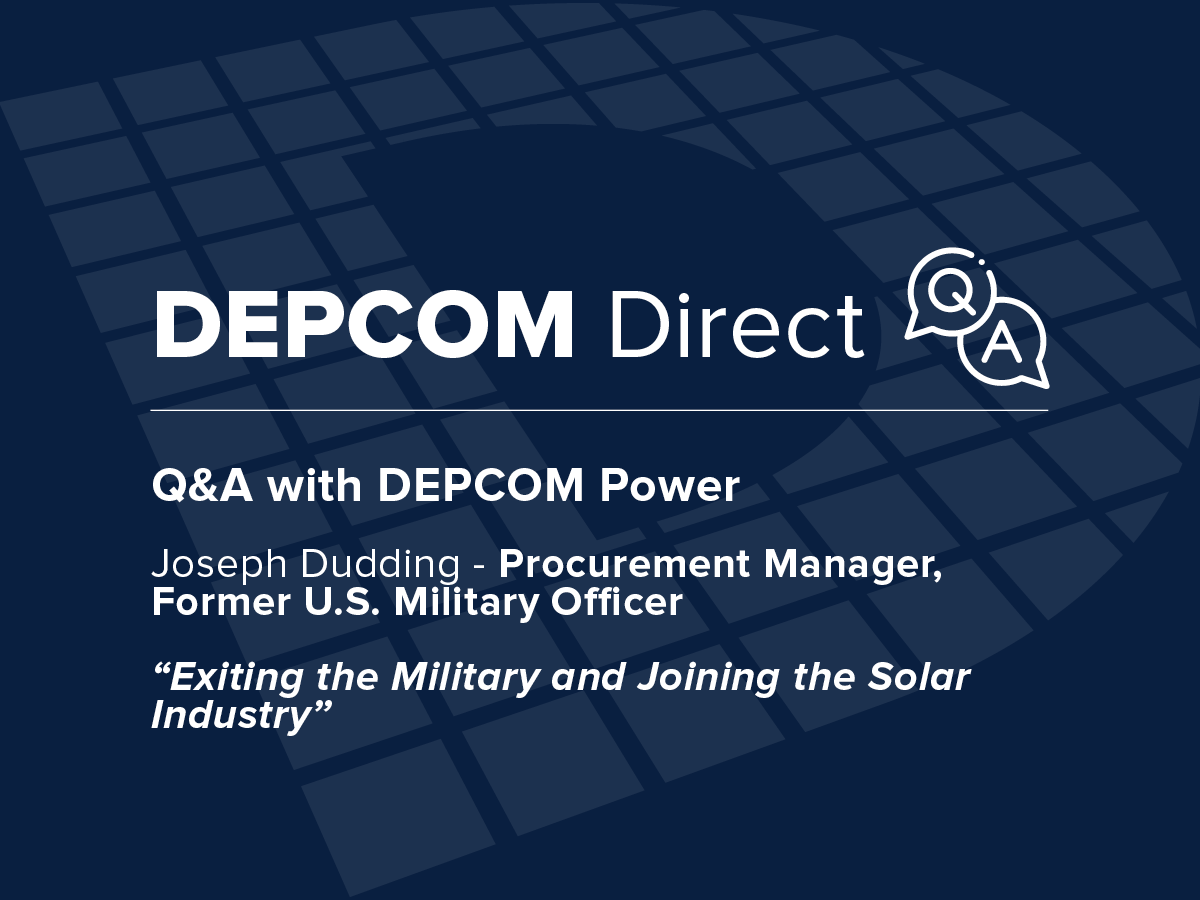 Exiting the Military and Joining the Solar Industry, Hiring Americas Heroes: Q&A with Joseph Dudding, DEPCOM Power Procurement Manager.
DEPCOM Power is a proud member of the Hiring Our Heroes Corporate Fellowship program, offering exiting veterans' apprentice opportunities in the utility solar industry. Recently DEPCOM Power offered a fellowship experience to exiting U.S. Army Officer Joseph Dudding. He shares his experience and ultimate decision to join the company as full-time employee.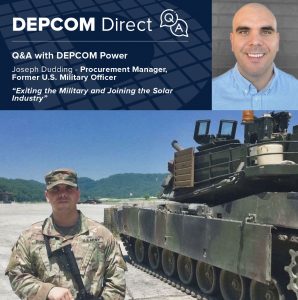 What is your educational and military background?
I attended Arizona State University studying Political Science with a Minor in Military Science through the ROTC program. After graduation, I commissioned into the U.S. Army as an Ordnance Officer and was stationed in South Korea for two years followed by two years in Virginia. I specialize in logistics, supply chain, operations, and maintenance.
What was the process of onboarding to the Hiring Our Heroes program and selecting DEPCOM Power as your host company?
About a year and a half ago, I heard of Hiring Our Heroes through a colleague who was currently attending a fellowship and connected me to the program manager. From there, HOH's partnership with the Solar Energy Industries Association sent out company information for all solar companies participating in the program. I reached out to DEPCOM Power's veteran initiatives contact, Nathan Evans, to discuss the fellowship opportunity.
Why did you choose DEPCOM Power for your fellowship?
DEPCOM Power initially caught my attention because of DEPCOM Power's strong veteran culture. Solar was never on my radar as a career path but Nathan Evans, Director of Procurement, gave insight to where a lot of his own military experience in logistics translated well to the fast-paced environment of solar procurement and the industry's incredible growth trajectory.
This experience has taught me just how dynamic this industry and company is positioned.  I was incredibly proud to accept a full-time employment offer with the DEPCOM Power Team at the end of my fellowship. My career path at DEPCOM Power is brimming with potential and opportunity.
How was your fellowship experience?
I felt welcomed and supported since the first day. Mark Brown (SVP of Procurement) and Nathan Evans mentored me daily and gave me autonomy with project assignments which allowed me to learn and adapt quickly to the fast-paced environment. During the 12 weeks, I worked on post and racking delivery schedules, issuing equipment Purchase Orders, material requests from active construction sites, tracking commodity pricing for major equipment, and the creation of an onboarding handbook for future procurement team members.
Did you have the opportunity to visit any project sites?
I joined the procurement team and visited two of DEPCOM Power's solar sites, along with a racking and ground screw supplier in Florida. Being able to see different stages of solar construction added great value to the fellowship because it gave a stronger context to my projects. The supplier visit helped provide insight into the equipment technology itself and how business is conducted between suppliers and EPC businesses.
What advice would you give to other HOH fellows?
Be open to new opportunities, new industries, and new roles that you would have not initially thought would be an option. Even if an opportunity seems to be outside of the scope that you performed in the military, new challenges can be extremely rewarding. Another piece of advice would be to leverage your network of other veterans in the same industry. For example, I attended networking sessions with other veteran fellows in the same region and industry organized by HOH to talk about their personal experiences through the fellowship program.