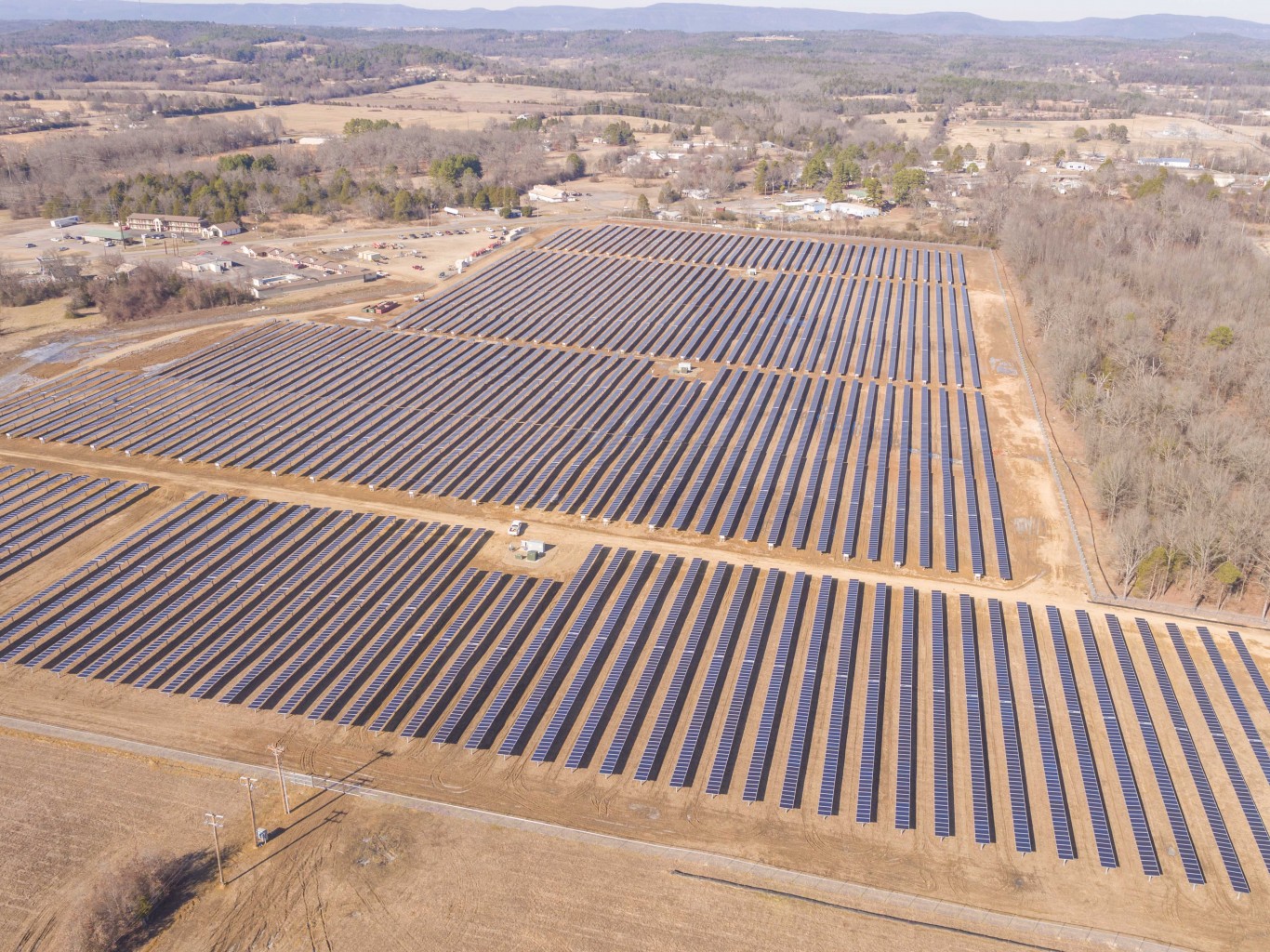 Clarksville, Ark. – The state's largest municipal utility solar power plant was officially introduced to the public this Wednesday at a ribbon-cutting ceremony.
The plant includes more than 20,000 solar modules that track the sun's movement and is expected to save Clarksville utility customers $500,000 per year while reducing carbon emissions.
In addition, local charities will benefit from $100,000 in charitable contributions from solar power project participants and community members.
Clarksville Light & Water Co. (CLW) signed a contract last July with project developer Scenic Hill Solar to deliver the plant mid-2018 but the plant was constructed six months ahead of schedule and on-budget.
Under the terms of the partnership Scenic Hill Solar owns and operates the plant and sells the cheaper, cleaner energy for the next twenty-eight years to CLW. CLW also retains an option to purchase the solar plant from Scenic Hill Solar in eight years.
"We believe small communities can think and do big things. Our partnership with Scenic Hill Solar differentiates Clarksville by providing a local power generation resource, increases our already sizable portfolio of non-emitting power supply resources, positions our community as forward thinking, and yet our customers save money at the same time." said Clarksville Light & Water Co. general manager John Lester. "In fact, with more businesses looking to increase their sustainability efforts, Clarksville is well positioned to help them meet their goals by CLW energy supply being approximately 50 percent renewable. In fact, as a municipal utility we have the flexibility to be able to provide a 100 percent renewable supply to potential new business if they have interest," remarked Lester.
In its first year of operation the solar power plant will generate over 11 million kilowatt hours of electricity representing 25 percent of CLW's residential load. Over the next 30 years the plant will produce more than 305 million kilowatt hours of electricity and is expected to cut carbon emissions by approximately 215,000 metric tons, which is equivalent to eliminating more than 500 million passenger car miles driven or eliminating more than 200 million pounds of coal from being burned.
"We are proud to partner with CLW on a power plant that reduces costs, provides future price certainty for their electricity, reduces emissions, employs local workers, and gives Clarksville its first local generating resource," said Scenic Hill Solar CEO Bill Halter. "We commend the leadership of Clarksville for their forward-looking vision and are confident that other communities will follow their example."
"We are thrilled to announce that solar power project participants are joining together to contribute $100,000 to local charitable organizations," adds Halter. "Our collective contribution will allow the Johnson County Imagination Library to meet its goal of providing children born in Johnson County, Arkansas with a book each month for the first five years of their lives. Additionally, contributions will benefit the Augsburg Food Bank, Finding Hope, Heroes on the Water, and Union Rescue Mission."
As part of the ribbon cutting celebration, solar power project participants announced over $100,000 of contributions to local charitable organizations. The Shanti and Bill Halter Charitable Fund, U.S. Bank, Arkansas Community Foundation, Hardwicke Funeral Home, Johnson County Health and Rehab, Bird's Hospitality, Mustard Seed, University of the Ozarks, Dunsworth Family, Wade Black, First National Bank, and Roller Cox, contributed $65,000 to Imagination Library. These funds will cover the estimated cost to completely fund the Johnson County Imagination Library's goal to provide children born in Johnson County Arkansas a free book each month for the first five years of their lives (60 books mailed to each child). Imagination Library was established by Dolly Parton. Research on the Imagination Library indicates that the program is extremely popular in the communities where its implemented and shows promise in promoting changes in home literacy environments, children's attitudes toward reading, and early literacy skills. In addition, DEPCOM Power made charitable contributions to the Augsburg Food Bank, Finding Hope, Heroes on the Water, and Union Rescue Mission.
"We are grateful for the large charitable contributions generated by this project which will advance literacy in Johnson County and ultimately provide even greater long-term benefits to our community," said Lester.