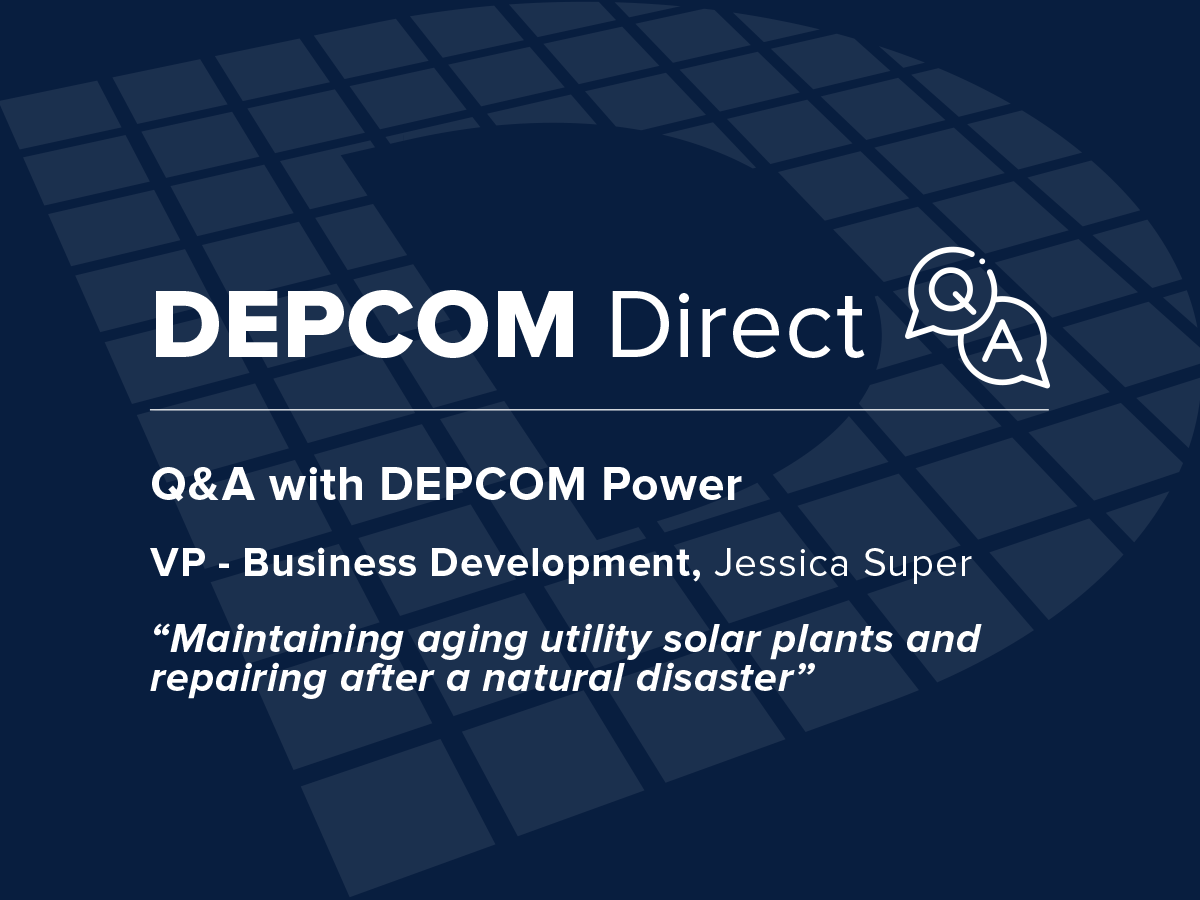 DEPCOM's VP of Business Development, Jessica Super, talks about industry best practices for managing aging solar plants and the value of DEPCOM's legacy experience in the wake of a natural disaster.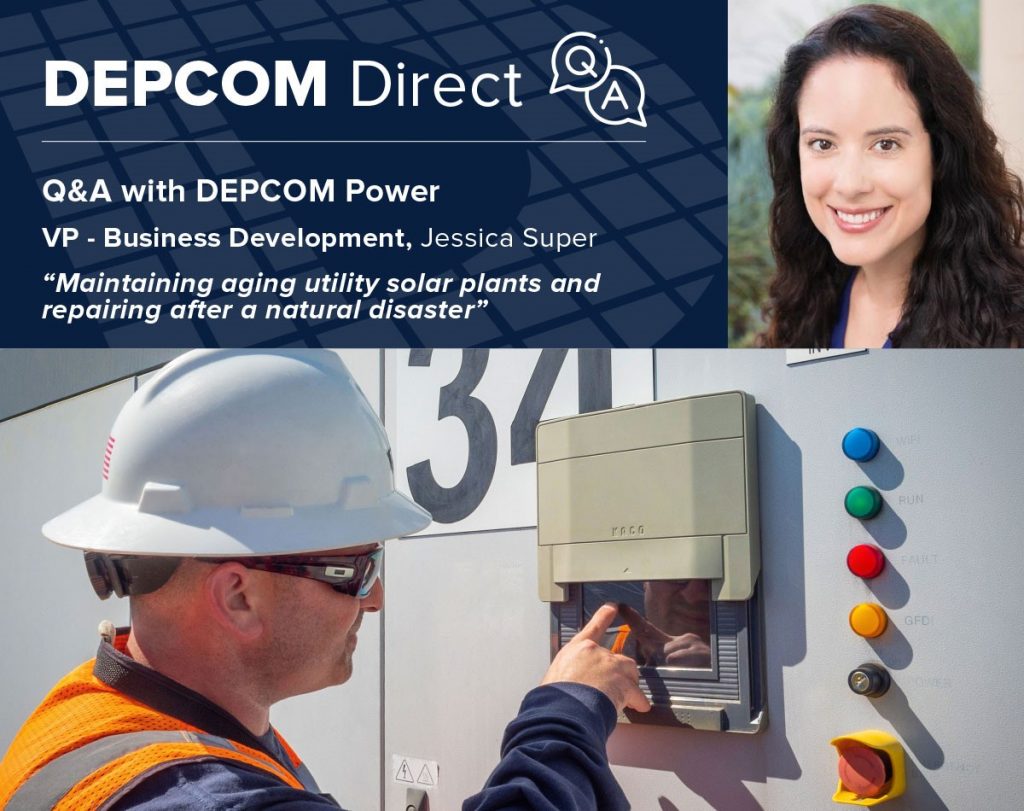 After a fire damaged 1,400 units of racking equipment and 110,000 modules at a utility solar plant in Bakersfield, California, DEPCOM Power was called to help restore, repower, and recertify the site to optimal condition. DEPCOM performed engineering support, procurement, and construction services to replace all damaged equipment and work to connect the plant back to the California grid.
Given the plants age, exact replacements of many pieces of equipment were no longer available. Leveraging DEPCOM's extensive industry knowledge, the team found new equipment that would integrate seamlessly into the existing system.
Jessica Super, VP of DEPCOM Business Development shares her perspective from the recent project.
What advice would you give to an asset owner with an aging fleet?
Two ways that Owners can help their PV Plant operate well throughout its design life is routine property management and inverter inspections. Regular management of onsite vegetation is crucial for fire prevention, environmental quality, and permit requirements. Also, ensuring that all power conversion equipment is sealed and protected from outside elements like dust and small animals will prevent any parts or wires from becoming loose or damaged. To avoid inverter fires, Owners should prioritize routine inspections of torque values on conductors.  
Why do you think DEPCOM is well positioned to take on 3R projects?
DEPCOM is well positioned to be an industry leader for restoration, repowering, and recertification because of the team's extensive experience within early-stage development, EPC, and O&M. Utilizing the in-house procurement team's long-standing experience with tier 1 suppliers makes DEPCOM an attractive option to boost speed of service and ensure reliable supply. Additionally, DEPCOM's experienced in-house engineering team has a vast knowledge of utility solar equipment since the industry's inception. This legacy expertise in understanding how some of the first plants were built and the equipment used has proven incredibly valuable to asset owners in solving aging plant issues and identifying the right equipment replacements.
What are the common issues asset owners are coming to you with and needing help solving?
Common reasons asset owners have sought DEPCOM's 3R services are to address weather damage, fire damage, and sub optimal performance of plant energy production. An emerging trend is for Owners to take advantage of new land for megawatt expansion or the opportunity to couple plants with battery storage. Whether it is working with Owners to rebuild entire areas of a damaged plant, working with their insurance companies, and/or finding solutions to make the most of strong PPA rates, DEPCOM has the industry reputation and experience to get the job done.
DEPCOM offers a referral program to help identify solar plants in need of repowering, restoring, and recertifying- how does the program work?
DEPCOM is proud to offer compensation for qualified 3R leads across mainland USA. Project referrals with the following contract values are eligible for a referral award.
$250 for a qualified lead with a contract value over $250,000

$1,500 for a project awarded with a contract value less than $1M

$5,000 for a project awarded with a contract value more than $1M
For more information, click here. Questions, contact: 3R@depcom.jz2.barn3s.com