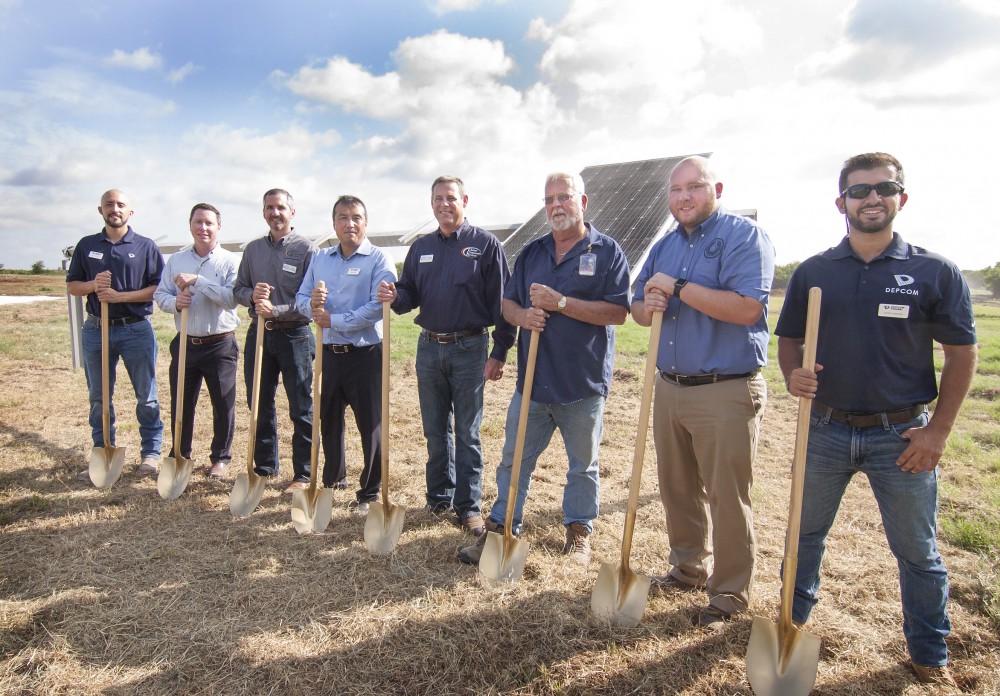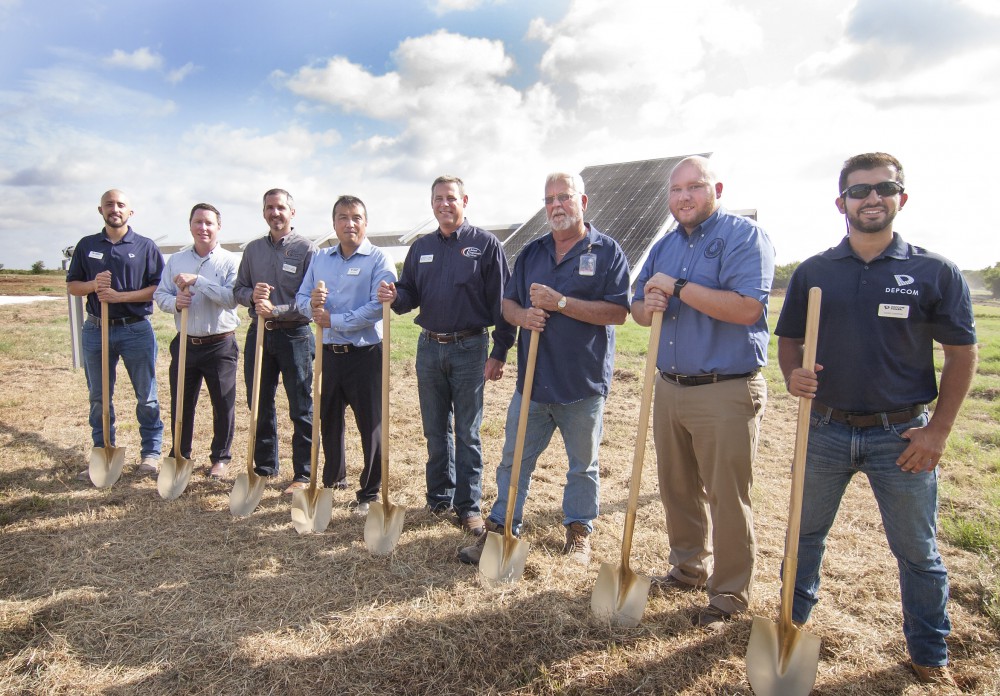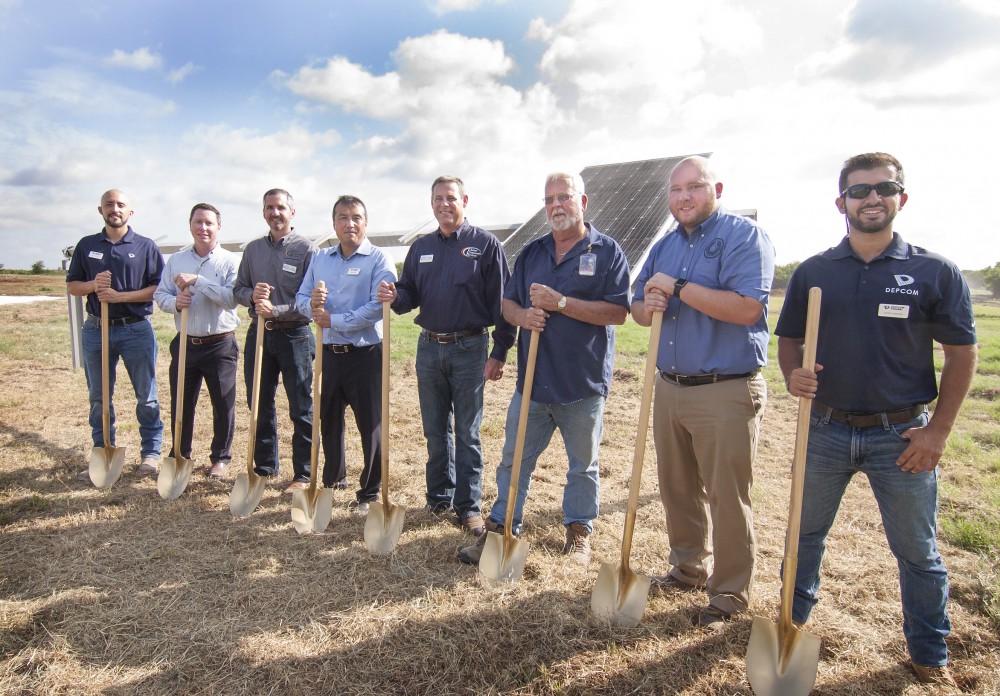 Cleburne, TX- August 16, 2017 – United Cooperative Services (United), DEPCOM Power, Inc. ( DEPCOM) and TurningPoint Energy (TPE) announced today the commencement of a community solar power plant that will immediately begin construction on a new 9.9 megawatt (AC) utility-scale solar plant in Bosque County, TX.
DEPCOM will provide Engineering, Procurement, Construction and Operations & Maintenance for the plant.
The project was developed by Turning Point Energy, LLC and energy produced by the facility will be sold under a power purchase agreement to United, an electric distribution cooperative serving 83,000 meters in 14 north Texas counties. This will be the second project for DEPCOM and Turning Point, having partnered most recently on the 25 megawatt AC / 34 megawatt DC solar plant in Luna County, NM.
"Our team is excited to come through on our commitment to United to expedite the full development and financing of this solar power plant from selection in April to full financing and ground breaking in August with plans for full commercial operation by year's end, said Jared Schoch, Principal of TurningPoint Energy. "Our past experience and relationship with DEPCOM Power as a trusted EPC and O&M partner and financing partner uniquely positioned us to be able to come through on this project."
The solar power plant is scheduled to achieve commercial operation by end of 2017 and will generate clean energy to help bring power to thousands of United Electric Cooperative members.
"Having always been committed to bringing innovative energy solutions to our membership that align with our mission of delivering exceptional service and value, this community solar facility will give our members access to cost-effective and reliable solar power," said United CEO Cameron Smallwood.
In keeping with DEPCOM's commitment to hiring local and hiring U.S. veterans, approximately 90% of construction labor jobs will be sourced from Bosque County including a veteran employment goal of at least three times the national average.
"DEPCOM is proud to invest in Texas and help bring more low-cost, clean solar energy to the grid. We look forward to building a state-of-the-art, reliable solar power plant for United Cooperative and its members," said Johnnie Taul, Chief Operating Officer for DEPCOM Power.
In keeping with DEPCOM's core philanthropy values, a portion of the project profits will be donated to deserving, local Bosque County community outreach organizations and to the Bob Gary Family Memorial fund.
About United Cooperative Services
Established in 1938 and headquartered in Cleburne, Texas, United Cooperative Services is an electric distribution cooperative serving 83,000 meters and more than 57,000 members. United plays a key role in the economic development of its communities and, unlike a private utility, the cooperative is a not-for-profit business owned by the members it serves. Maintaining more than 11,000 miles of energized line, United serves parts of Johnson, Erath, Hood, Bosque, Somervell, Palo Pinto, Coryell, Eastland, Comanche, Stephens, Young, Hamilton, Tarrant and Ellis counties.
About TurningPoint Energy
TurningPoint Energy is a clean energy advisory, development and investment company headquartered in Denver, Colorado. Its principals have experience developing solar projects totaling more than $2.1 billion in value over 750MW of operating solar power plants throughout the United States within the last eight years. TurningPoint Energy is structured as a privately held, lean company with some of the lowest overhead and profit requirements in the energy industry, the ability to make decisions quickly and customize our projects to each customer's needs. For more information about TurningPoint Energy, visit www.turningpoint-energy.com
About DEPCOM Power
DEPCOM Power is a partner in utility-scale solar for: Project Development Support, Engineering, Procurement & Construction and Operations and Maintenance services for utilities, independent power producers and project development companies. DEPCOM Power leverages a highly experienced solar team, technology and agnostic top-tier solar modules, and cost effective balance of system components to provide optimum levels of agility, price and quality for utility scale solar. For more information about DEPCOM Power visit www.depcompower.com
Media Contact:
Steve Chun, DEPCOM Power
(480) 270-6910
schun@depcom.jz2.barn3s.com