At DEPCOM, we're shaping America's clean energy industry, designing and constructing the most efficient & advanced utility scale solar plants for one of the nation's fastest growing sectors. Our POWER team brings together unmatched industry experience, having built some of the nation's largest & most efficient solar plants for leading utility companies. An e-verify employer, we hire ambitious, safety-minded, entrepreneurial spirited professionals who work and live by our defining core values.
Our comprehensive, industry-leading compensation programs include:
Competitive Salaries
Corporate and Personal Bonuses
401k with 50% Employer Match of Federal Limit
Medical/Dental/Vision Insurance
Pet Insurance
Short/Long-term Life Insurance
Paid Holiday and Vacations
Construction Per Diem
Free Financial Planning and Estate Planning Services
Mind and Body Wellness Program
Paid Referral Program
Wellness Events, Challenges, Seminars
Gym Membership Reimbursement
Volunteering and Philanthropy Events
Anniversary Appreciation Gift Program
Bring Your Child to Work Summer Program
NRA Membership Reimbursement
Professional Growth Opportunities
Annual Company / Team Building Events
We Work Hard, Play Hard: From bowling, go-karting, yoga, to painting classes, our team bonding focuses on FUN.
Volunteer Outings: DEPCOM G.I.V.E.S. provides monthly volunteer opportunities for employees in the communities where we build and operate.
Connections Program: Employees can bring their teenager to work for the summer, in the solar field or office and learn first-hand about the fastest growing energy industry sector in the nation.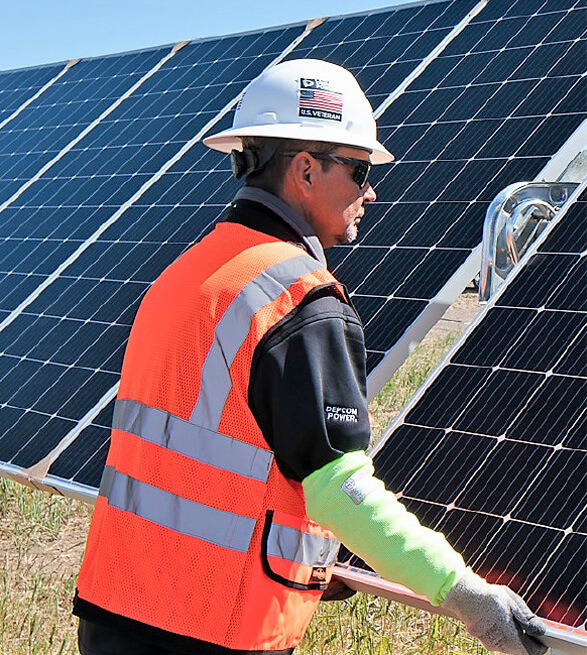 We Hire America's Courageous Veterans
With thousands of returning veterans entering the job market each month, DEPCOM works in partnership with Hire Americas Heroes, Empower America and Disabled American Veterans (DAV) , all non-profit organizations dedicated to preparing and employing military veterans for careers after returning to civilian life. Together we proudly help recruit, hire and train deserving, skilled veterans for open positions at DEPCOM. 20% of DEPCOM's workforce to date is comprised of veterans compared to the national average of 7%. Veterans are encouraged to apply for our open positions.
Our Veteran Recruiting Partners
---
To help find qualified veterans, DEPCOM also partners with dedicated veteran recruiting partners: