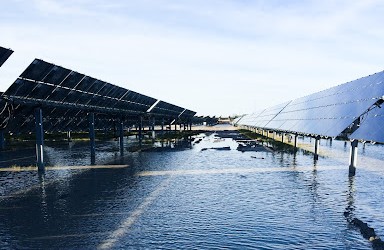 This article was featured on North American Clean Energy
Whether it's wildfires, hurricanes, or hail, natural disasters devastate solar power infrastructure. This is particularly true for asset owners of utility PV, where extreme weather can cause significant downtime, repair costs, and revenue loss.
Last summer was the worst on record for natural catastrophe claims, with far more damaging unmodeled extreme weather events than traditional natural catastrophe claims. Hail losses in Texas alone last year caused about $300 million in solar damage, nearly ten times the estimated losses from Hurricane Hanna (2020).
Let's start with some context: When a wildfire devastated a 20-megawatt solar plant in Kern County, Calif., in 2020, it looked at first as if the entire 200-acre site had been destroyed. Firefighting helicopters had dumped tons of water on the plant trying to douse the flames, flooding many of the site's inverters.
The asset owner brought in an experienced disaster management team to survey the damage and create an intricate plan to deconstruct, salvage, repair, and replace vital equipment. The team restored the plant two months faster than competing bidders, saving $2.6 million, and rescuing equipment that otherwise might have been scrapped.
Here's a strategic roadmap of the best practices that helped them do it.
Assess and document damage  

Don't let initial impressions mislead you. Damage that first appears minimal may be concealing more significant issues. Document everything, even superficial effects. Take pictures — at least four or five for everything that may require attention. Note components that may no longer be in production, and determine which OEMs will play significant roles moving forward.

For more extensive damage, consider a high-resolution aerial scan of the site to map destruction levels. Insurance companies often cover such inspections because they want to know what they're dealing with just as much as you do. Infrared views can identify thermal problems invisible to the naked eye.

Salvage and stagger work efficiently 

Before restoration work begins, establish standards for testing damaged equipment, and establish criteria for what warrants repair and what calls for replacement. The right restoration partner will have the expertise required to implement these procedures.

Salvaging components requires flexibility. Maintain quality, but stay alert for opportunities to continue using viable parts. For instance, instead of replacing an entire inverter, explore every option to re-energize the equipment. Successful salvage can save hundreds of thousands of dollars over replacement.

It's critical to get as many sections of the plant operational as fast as possible. This can go a long way towards restoring revenue streams, even while restoration continues elsewhere on the site. At the Kern County plant, the recovery team consolidated salvageable parts to get sections back online while awaiting replacements for destroyed components.

When possible, stagger the work to prioritize production; if one inverter is down simply due to a ground fault, but the rest of the array is in good shape, prioritize restoration there to get a section of the plant back online.

3. Repair and replace old with new It's tricky to blend legacy equipment that's no longer being made with modern components. Look for a partner with the expertise required to creatively weave in still-functional older parts with state-of-the-art PV technology.

In the case with the fire damage in Kern County, the recovery team sourced, engineered, permitted, constructed, and commissioned a hybrid system that melded older 1,000-volt central inverters with modern 1,500-volt systems. The effort brought the entire plant back online 60 days faster than a competing bid would have, avoiding $1.2 million in lost revenue. Because the restoration partner was also an EPC with O&M capabilities, the project further benefited from efficient labor and competitive materials pricing, saving the owner $1.4 million more on reconstruction and parts.

4. Mitigate equipment supply risks  Today's 'perfect storm' of supply chain and inflation challenges are exacerbating the complexity of extreme weather claims.

A partner with EPC capabilities can streamline the wait for parts, ensuring availability through Tier 1 procurement agreements. Particularly with today's supply constraints, you need experts with a deep supply network and, ideally, an extensive inventory of spare parts on hand at regional warehouses.

Make insurance a recovery partner 

Insurance adjusters often are brought in too late in the restoration process. Instead, establish a dialogue with your carrier early on to ensure familiarity with PV best practices, and bring all stakeholders into alignment throughout the project.

Adjusters were active from the start in Kern County, where assessments were needed on the remains of 1,000 modules, scores of junction boxes, and a DC collection system — all of which had been subjected to both blistering heat and drenching water. Delicate diplomacy is needed to reach agreement on a restoration plan.

Getting insurance up to speed from the project's genesis made it easier to streamline the claims process, and support rapid and optimal insurance coverage. Select an experienced recovery partner that can help you save valuable time in managing insurance claims.

Guaranteeing PV profitability after the crisis

Consider the advantages of long-term partnerships as you put together your recovery team. A full EPC partner with extreme weather mitigation know-how can offer in-house engineering teams, designers, construction management, and supply capabilities to ensure strong post-recovery performance.

In addition to meeting energy production guarantees after an extreme weather event, your EPC should offer dependable O&M services to keep things running smoothly well into the future. These experts bring additional plant operation solutions for long-term maintenance, repair, and energy optimization.

Partners who also offer repowering services can help address unreliable equipment that diminishes plant performance. Recertification programs can extend maintenance to salvage usable equipment for future use, and source parts faster than OEMs.

Salvaging solutions from the floodwaters

When two hurricanes hit a 92-megawatt plant in the Southeast, ten out of the 40 power conversion stations were flooded for days with nearly 18 inches of water. Because the plant's operator had taken all of the inverters offline before the storms hit, condensation had formed inside all of the stations. Unfortunately, rather than voiding the warranty on just the flooded inverters, the manufacturer denied responsibility for any of them.

The plant owner was looking at substantial financial losses, not to mention potentially months offline. A restoration team proved that a pre-existing design flaw in the inverters had caused the condensation, which prompted the manufacturer to restore warranty coverage.

Facing long lead times to replace the inverters covered by the insurance, the team instead salvaged and refurbished the units — saving $4 million in replacement costs, and avoiding $400,000 in lost revenue. Ultimately, the plant was fully restored 152 days faster than the competing solution, netting an overall savings of nearly $2.5 million.

Don't wait for natural disasters to strike 

Site recovery takes more than cobbling pieces back together again after a disaster; it involves complex processes that demand unique skills and expertise beyond simple construction. Planning ahead can make the difference between struggling to get back online, and coming back at full strength. To weather whatever storms may come, plant owners should screen potential partners today, and enlist their help to develop contingency plans for critical equipment and parts, safeguarding future profitability.