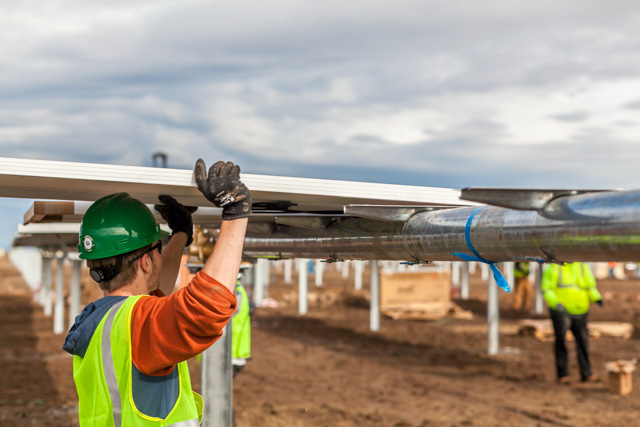 SCOTTSDALE, AZ. – October 19, 2015 – DEPCOM Power announced today it will continue to hire and recruit US veterans for open construction positions working in partnership with Empower America.  Empower America, a non-profit organization, dedicated to recruiting, training and employing military veterans for careers after returning to civilian life, US veterans have been recruited and hired by DEPCOM Power to support a wide range of craft labor positions building Utility Scale Solar Projects.
"Empower America understands that the solar industry is one of the nation's fastest growing sectors. As thousands of returning veterans enter the job market each month, we stand ready to recruit, train and make them part of America's Clean Energy Workforce, " said Mario Pabon, Empower America President and CEO. " DEPCOM Power is leading the charge in giving back to our veterans, helping to shape an optimistic future for them with meaningful jobs."
"It is with immense gratitude and pride that we can offer career opportunities to these deserving men and women, those who bravely fought to preserve our freedom," said Jim Tyler, Executive Vice President of DEPCOM Power. "DEPCOM was founded on the basis of patriotism- a unifying belief in our team's commitment to helping build a clean, independent energy future for America. Bonded by a common goal to serve and protect our great county, who better to work alongside us than our deserving and skilled veterans."
Veterans are encouraged to apply for open positions by visiting Empower America's Veteran Jobs Program ( hyperlink: http://www.weempoweramerica.org/ ).
About DEPCOM Power
DEPCOM Power is a partner in utility scale solar for: Project Development Support, Engineering, Procurement & Construction and Operations and Maintenance services for utilities, independent power producers and project development companies. DEPCOM Power leverages a highly-experienced solar team, technology agnostic top-tier solar modules, and cost-effective balance of system components to provide optimum levels of agility, price and quality for utility scale solar.  For more information about DEPCOM Power, please visit www.depcompower.com
Media Contact
Steve Chun, DEPCOM Power
(480) 270-6910
schun@depcom.jz2.barn3s.com