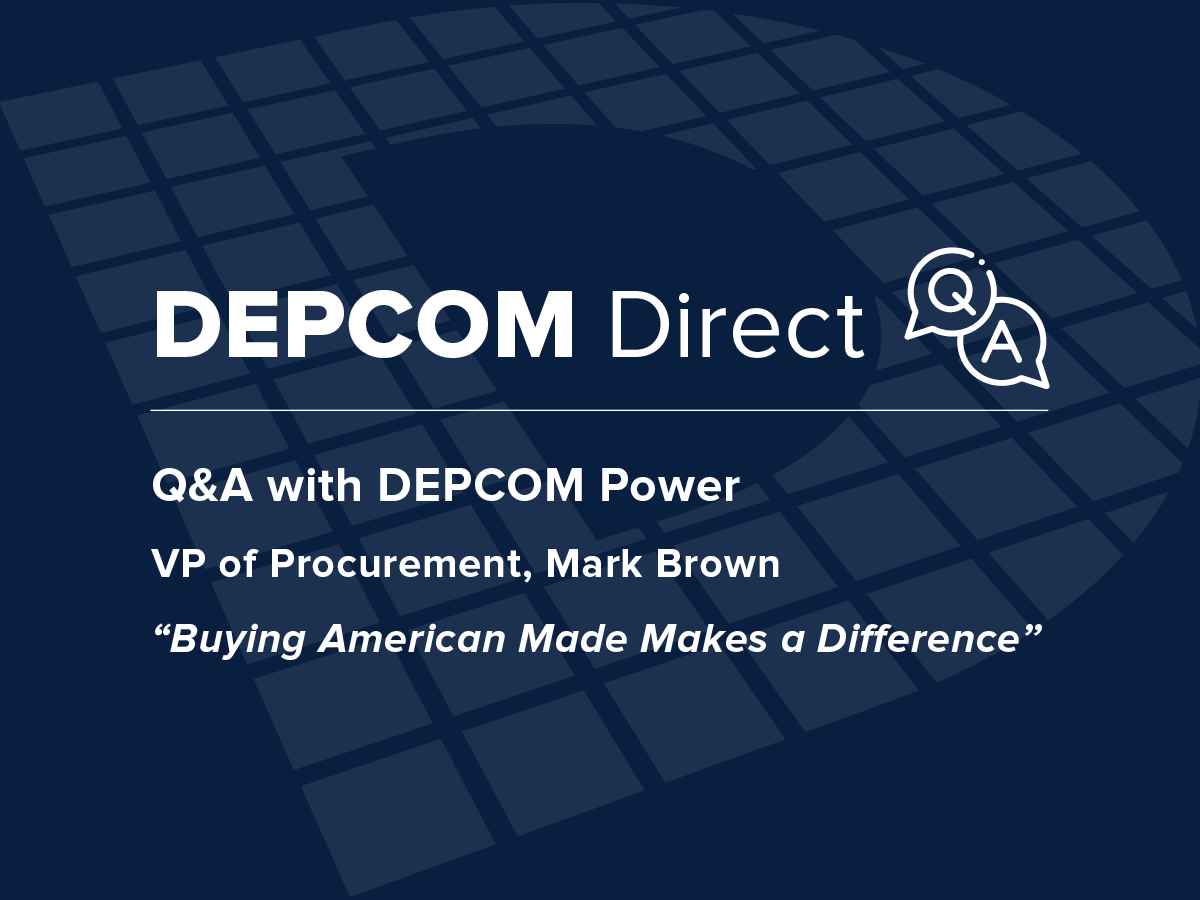 February 24, 2021
DEPCOM was founded on the belief that American businesses should support buying American products and expanding our country's domestic manufacturing. DEPCOM's Vice President of Procurement, Mark Brown, shares his thoughts on the competitive edge that American-made procurement brings to DEPCOM Power.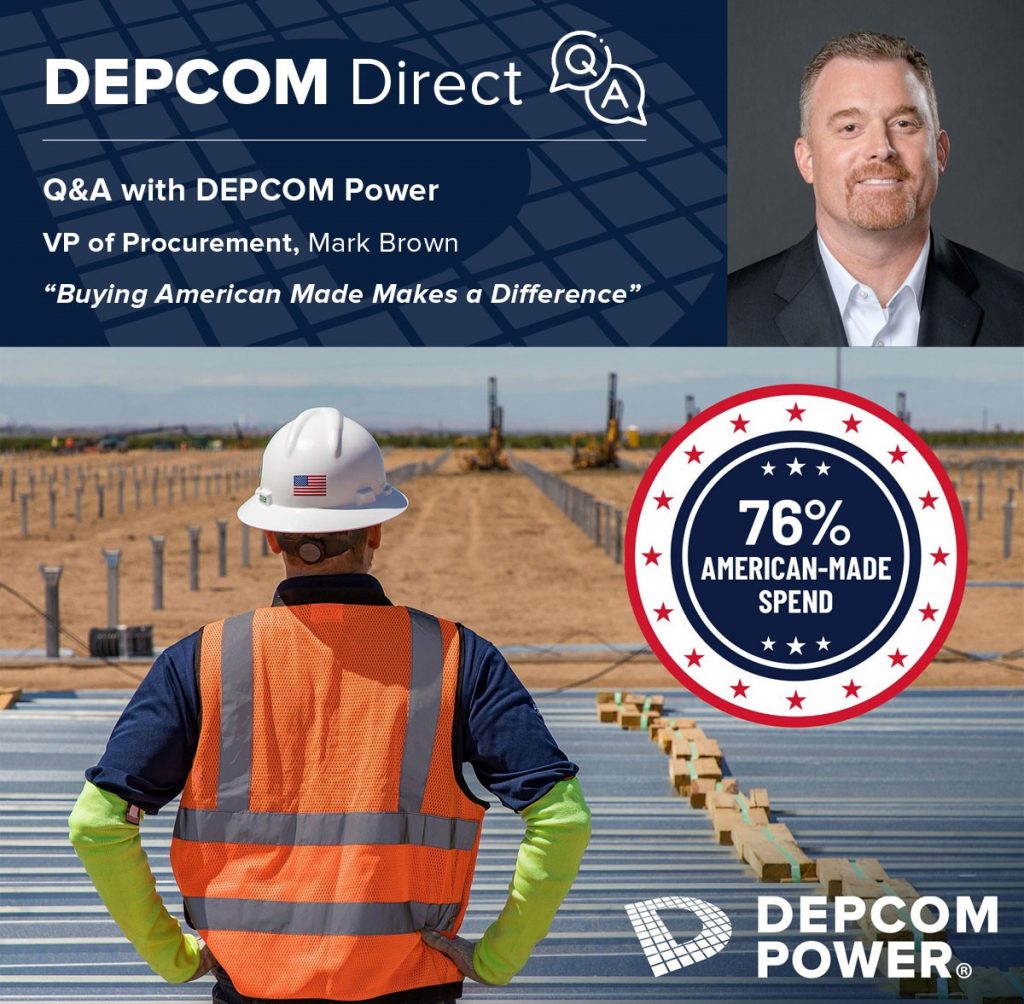 Q: Since the company was founded, DEPCOM has prioritized buying American-made, what drove this decision?
The genesis of the Buy American philosophy stems from the founding team's decision to build a business around a strong set of patriotic core values. By promoting business within our own nation, DEPCOM is not only strengthening our domestic economy and uplifting fellow Americans, but it is also providing added benefit and value to our customers. In addition to prioritizing sourcing major equipment from American companies, DEPCOM makes it a priority to offer job opportunities to our nation's heroes by hiring veterans every chance we get.
When DEPCOM was founded in 2013, the global economic environment was becoming increasingly more complex with a lot of hidden costs, added risk and logistical challenges associated with international trade and geopolitical instability. By shifting the focus from international suppliers to sourcing quality domestic products, DEPCOM reduces the risk and headaches that come from the international trade environment, while still providing value to our customers and doing our part to promote a healthy domestic economy.
Developing relationships with USA manufactures is also critical to our "Go Fast" execution philosophy because major equipment is delivered to job sites much quicker than it would be if we purchased from overseas suppliers. On average, we get materials to the project sites 3-5 weeks earlier from U.S. sources than from international suppliers. Accelerated material deliveries allows us to build projects quicker, reduces our supply chain risk and ultimately drives increased execution efficiencies that we can pass along to DEPCOM's customers.
Q: How well has this procurement philosophy paid off for the company and its projects?
Our customers are very supportive of our Buy American program as they see the value it can bring to their projects in the form of high-quality products at a reasonable cost with reduced supply chain risk. The past year has really highlighted the benefits of the Buy American philosophy with the economic disruption that came from the COVID-19 pandemic. Securing most of our materials from domestic sources minimized our exposure to the disrupted global markets and international logistics issues that plagued the industry in 2020. We are very proud of the fact that that throughout the COVID pandemic, we had no major project issues with material/equipment availability and shipping delays.
DEPCOM not only seeks out U.S. manufacturers but also actively promotes global suppliers to increase their US content. We have had several successful programs with our supply base that has driven up their U.S. content by more than 25%. We take very seriously the responsibility of setting the industry standard for promoting U.S. businesses and increasing our domestic manufacturing capabilities.
Q: What types of American-made materials does DEPCOM purchase?
As much as DEPCOM feasibly can! Everything from substation transformers to combiner boxes, to racking and tracker materials, and even modules in some cases. We also only buy American-made cable for our projects. We are always on the lookout for new companies and technologies that can strengthen our product offering to our customers and further promote our American manufacturing program.
Q: What areas of domestic manufacturing do you feel American industry needs to grow more rapidly in to meet the procurement needs of the expanding utility solar industry?
Utilizing and investing in the American steel industry would have tremendous benefits to boosting local economies and meeting our nation's growing infrastructure needs. Although, the U.S. would benefit immensely from an increase in all types of major equipment production, modernizing and expanding our domestic steel capabilities would allow us to recapture many of the lost jobs in that industry as well as enable us to produce the critical structural materials needed to support future energy infrastructure growth. We also see a need and significant opportunity to expand solar cell and module manufacturing here in the U.S. to meet the rapidly growing market demand.
Q: How does DEPCOM validate its current and new suppliers?
DEPCOM takes a cross functional and total cost of ownership approach when evaluating potential supplier partners. All disciplines (Procurement, Engineering, Construction, Operations, etc.) participate in the evaluation of new suppliers and new technologies to ensure we are considering all critical perspectives in our sourcing decisions. Ultimately our cross functional approach allows us to make better sourcing decisions and take "intelligent risks" that can be appropriately evaluated and managed. The DEPCOM team also knows that to bring real, sustained value to our Customers and their projects, we need to take a holistic approach when making sourcing decisions. While upfront cost is always important in any sourcing decision, there are other critical factors like product design, quality, supply chain risk, constructability and ongoing maintenance costs that must be considered to truly optimize the sourcing decision.
Q: How can American-made suppliers contact DEPCOM with new products and services?
procurement@depcom.jz2.barn3s.com